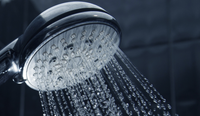 Almost Instant Hot Water!
The Chilipepper eliminates the need to run the faucet for several minutes to get hot water. Upon activation, the high-power pump circulates the water from the water heater - whether tankless, tank-type or other - to the faucet. And there's no need to even open the faucet but if you need to use the water while the pump is running, No Problem!
Eliminate Waste - Save Water!
The Chilipepper recirculates the cool water from the hot water line back to the water heater to be reheated instead of running it down the drain. Eliminating that wasted water saves thousands of gallons of water every year. A typical family of 4 can save over 12,000 gallons of water per year!